Free Member
It's free to run with Birmingham Swifts and run with us on our Thursday night runs and on a Saturday morning at Cannon Hill Parkrun. We're open to everyone, no matter what your ability, age, gender or sexuality. We have runs suitable for everyone, from starting out programmes to weekly social runs. By running with the Swifts, we ask that you agree to our Members Code of Conduct and our Data Protection Policy. We want to help you achieve your running goals, and we aim to do it as part of a supportive and inclusive group.
We are a friendly bunch so don't be shy – come along and make new friends!
To join as a free member please just come along one Thursday night and speak to a Run Leader!
---
"I joined the Swifts, knowing that I could run with a group who wouldn't judge me or question my appearance, mannerism or personality. We integrate folk and accept who we all are. I believe we offer respect, tolerance and a comfortable environment to run." – Jay
---
Paid Supportive Member (£12.50) 
You can support your club by upgrading from our free membership, to paid supportive membership, at just £12.50 for the year! As a paid member you:
Will be supporting your club
Get access to our planned new coaching and training sessions for 2022.
Get a discount on our official club running vest and snood.
Be invited to our exclusive, affiliated members only social in the summer!
What are club funds spent on? How else do I benefit?
Training of volunteers to LiRF/CiRF (leader/coach in running fitness) qualification level so that club runs are insured and runners benefit from led or coached training sessions. All Thursday night sessions and Saturday morning Parkrun are open to all runners without cost. Without the money to fund LiRF/CiRF training, led/coached sessions could not take place.
Costs for events including prizes, trophies, medals, Club socials etc
Running the website, emails and associated costs.
Equipment and clothing: volunteer hi-vis vests, stopwatches, cones, club flags and signs – initial purchase and then repair/replacement when necessary
We also thank Andy at The Fox for his support over the years in providing the costs and help for many of these things!

Add on affiliated membership to England Athletics (£16.00)
The Birmingham Swifts are an England Athletics (EA) associated club, and as such have national recognition as an organisation. Affiliated Members of the Birmingham Swifts have the opportunity to also affiliate with EA to obtain additional benefits and exclusive opportunities for races. 
What are the additional benefits of EA affiliation?
A place in the Swifts Club London Marathon Ballot (when a ticket is provided to us by EA).
Race entry discounts on UK Athletics licensed road and multi-terrain events.
Discounts at most running stores nationwide.
Access to online resources from England Athletics aimed at ability improvement.
Liability insurance for individual members of other affiliated clubs.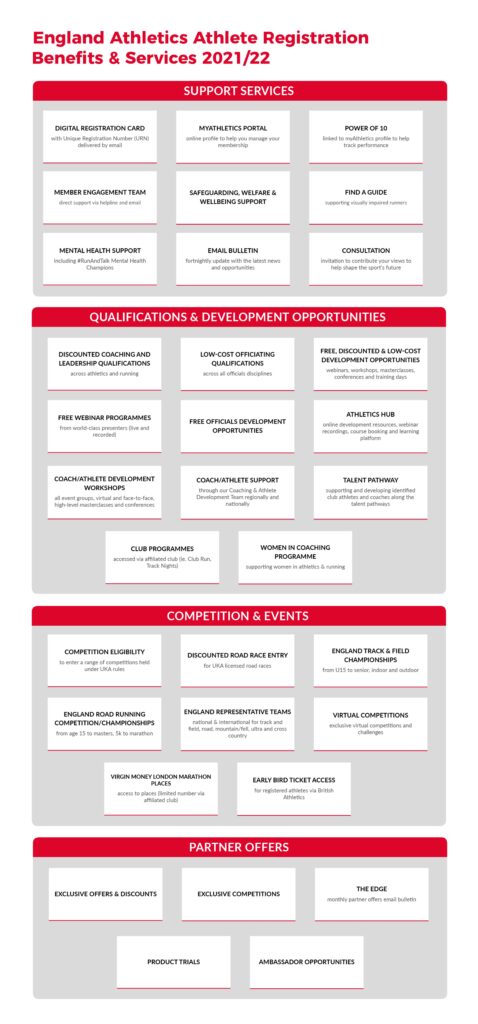 See more about the benefits of EA Affiliation here.
How much does it cost?
The cost of Swifts affiliation is £12.50. It is an extra £16 for the EA affiliation. This is an annual fee which will be reviewed at each AGM.
You do not need to be an Affiliated member to run with the Birmingham Swifts.  Thursday evening social runs, Saturday's Cannon Hill Parkrun and our Starting Out groups remain free to all. But by upgrading to a paid member you really help us to keep going as a club!
How do I affiliate?
Affiliation is easy. If you meet the above criteria, all you need to do is:
1) If you haven't done it recently, or your details have changed, please complete the 2022 Swifts Runner Registration form.
2) Transfer £12.50 (non-EA affiliation) or £28.50 (with EA affiliation) into the Swifts bank account. The details are:
Account name: Birmingham Swifts
Sort code: 40-11-18
Account number: 45424933
Reference: Please put your full name with the word "Affiliation"
OR you can pay by card here: Swifts Membership Page
3) Once payment is made please:
Email secretary[@]birminghamswifts.co.uk and treasurer[@]birminghamswifts.co.uk (please remove the square brackets around the @, we need them on this page to stop spambots!) to confirm you've paid into the Swifts account.
4) When payment is received the Birmingham Swifts club secretary will add your details to club membership, and the England Athletics portal too (where included). You will then be sent your England Athletics Affiliated Membership (Athlete) card and Unique Runner Number for use when claiming discounts.
That's it. You're now affiliated for the remainder of the year.
By running with the Swifts, you agree to our Members Code of Conduct and our Data Protection Policy. From time to time we may use images taken at our events for publicity and by appearing in a group photo you agree to this. If you do not wish for your image to be used, please do not participate in group photos and please let any photographers know you do not wish to be included in any general shots. You accept that Birmingham Swifts LGBT+ Running Club will not be held liable for any injury, loss or illness resulting from your participation in Club events and that you run at your own risk. You also agree to Birmingham Swifts using your information reasonably in the management of the club and to contact you as required.
To find out more information, please e-mail info[@]birminghamswifts.co.uk (please remove the square brackets around the @, we need them on this page to stop spambots!).