Becoming a registered athlete with the Birmingham Swifts and England Athletics
The Birmingham Swifts are an England Athletics (EA) associated club, and as such have national recognition as an organisation. Members of the Birmingham Swifts have the opportunity to personally affiliate with EA to obtain benefits and exclusive opportunities for races. As a Birmingham Swifts EA affiliated member, you will also have the opportunity to attend Affiliated Member Only training and run events run by the Swifts.
What are the benefits of affiliating?
Access to additional development sessions led by our England Athletics qualified coaches.
Access to the Swifts' Shop allowing for the purchase of Swifts' running vests at a discounted rate.
Race entry discounts on UK Athletics licensed road and multi-terrain events.
Discounts at most running stores nationwide.
Access to online resources from England Athletics aimed at ability improvement.
Liability insurance for individual members of other affiliated clubs.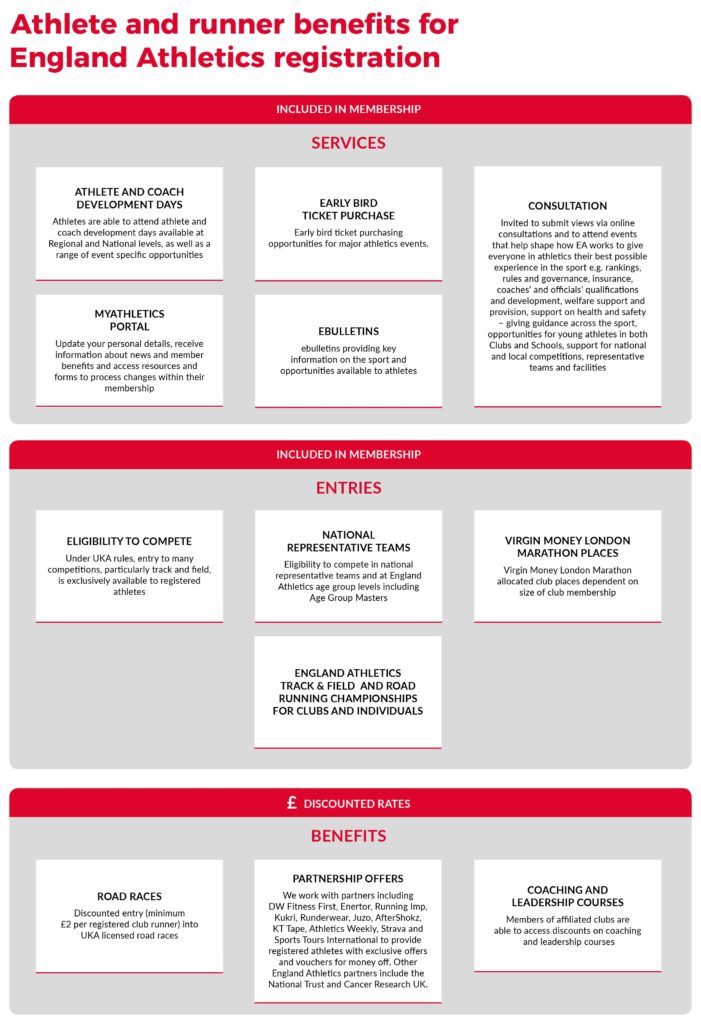 Do I qualify for affiliation?
You must be a member of the Birmingham Swifts in order to affiliate with England Athletics. To become a member you need to have completed a new membership form since joining and have provided up to date contact and emergency information. New Membership Forms are available at every Thursday runs or can be e-mailed out if required. Further information can be obtained from the Club Secretary at secretary[@]birminghamswifts.co.uk (please remove the square brackets around the @, we need them on this page to stop spambots!)
How much does it cost?
The cost of affiliation is £27.50
This cost INCLUDES your sign up charge for athlete registration with England Athletics (currently £15) but also the cost of the Club affiliation and contributes to the running of Birmingham Swifts. The cost of affiliation for whole or part year is £27.50.  This is an annual fee which will be reviewed at each AGM.
You do not need to be an Affiliated member to support and run with the Birmingham Swifts.  Thursday evening social runs, Saturday's Cannon Hill Parkrun and our Starting Out groups remain free to all.
How do I affiliate?
Affiliation is easy. If you meet the above criteria, all you need to do is:
1) If you haven't done it recently, or your details have changed, please complete the 2021 Swifts Runner Registration form.
2) Transfer £27.50 into the Swifts bank account. The details are:
Account name: Birmingham Swifts
Sort code: 40-11-18
Account number: 45424933
Reference: Please put your full name with the word "Affiliation"
3) Once payment is made please:
Email secretary[@]birminghamswifts.co.uk and treasurer[@]birminghamswifts.co.uk (please remove the square brackets around the @, we need them on this page to stop spambots!) to confirm you've paid into the Swifts account.
4) When payment is received the Birmingham Swifts club secretary will add your details to the England Athletics club records. You will then be sent your Affiliated Membership (Athlete) card and Unique Runner Number for use when claiming discounts.
That's it. You're now affiliated for the remainder of the year.
By running with the Swifts, you agree to our Members Code of Conduct and our Data Protection Policy. From time to time we may use images taken at our events for publicity and by appearing in a group photo you agree to this. If you do not wish for your image to be used, please do not participate in group photos and please let any photographers know you do not wish to be included in any general shots. You accept that Birmingham Swifts LGBT+ Running Club will not be held liable for any injury, loss or illness resulting from your participation in Club events and that you run at your own risk. You also agree to Birmingham Swifts using your information reasonably in the management of the club and to contact you as required.
For any further information or if you have difficulties with the process, please speak with a committee member.